The study below measures felid species grappling ability. Various morphological measurements are used to group big game, small game, and mixed game (i.e. small and large) killing feline species.
Source: Samuels and Van Valkenburgh, "Forelimb Indicators of Prey-Size Preference in the Felidae", Journal of Morphology, 2009Summary - Big Game Killing Felid Species Have Stronger Forelimbs Than Small Game Killing Species

The abstract is below. Basically, large-game killing species
have strong forelimbs while small game killing species have
weaker forelimbs adapted for capturing swift small prey.
The forelimbs, along with the crania, are
an essential part of the prey-killing apparatus in cats.
Linear morphometrics of the forelimbs were used to
determine the morphological differences between felids
that specialize on large prey, small prey, or mixed prey.
We also compared the scaling of felid forelimbs to those
of canids to test whether prey capture strategies affect
forelimb scaling. Results suggest that large prey specialists
have relatively robust forelimbs when compared
with smaller prey specialists. This includes relatively
more robust humeri and radii, relatively larger distal
ends of the humerus, and relatively larger articular
areas of the humerus and radius. Large prey specialists
also had relatively longer olecranon processes of the
ulna and wider proximal paws. These characters are all
important for subduing large prey while the cat positions
itself for the killing bite. Small prey specialists
have relatively longer distal limb elements for swift prey
capture, and mixed prey specialists had intermediate
values with relatively more robust metacarpals. Arboreal
felids also had more robust limbs. They had relatively
longer proximal phalanges for better grip while
climbing, and a relatively short brachial index (radius to
humerus ratio). Additionally, we found that felids and
canids differ in forelimb scaling, which emphasizes the
dual use of forelimbs for locomotion and prey capture in
felids. This morphometric technique worked well to separate
prey-size preference in felids, but did not work as
well to separate locomotor groups, as scansorial and terrestrial
felids were not clearly distinguished.
Feline Species Grappling Ability Analysis
The following morphological measurements were used to analyze grappling ability.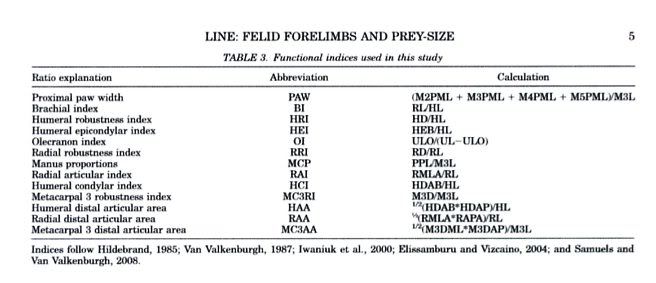 The following chart gives numbers for each feline used in the following graphs. For example, #1 is the cheetah, #20 is the lion,
etc.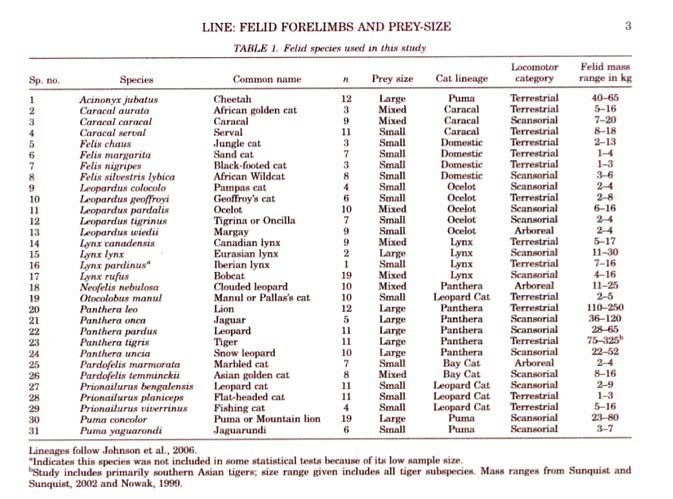 The graph below is a principal component analysis of all the felid
species and the morphological measures above. Principal component analysis groups species into big-game killing, mixed game, and small game killing based on morphology. Note the symbols (i.e large, mixed, small) represent the species actual feeding habits and not their morphological ability. Some
of this may be difficult to read as this was a difficult graph to
post legibly. If anyone has difficulty making any species out, I
can find them on the original pdf.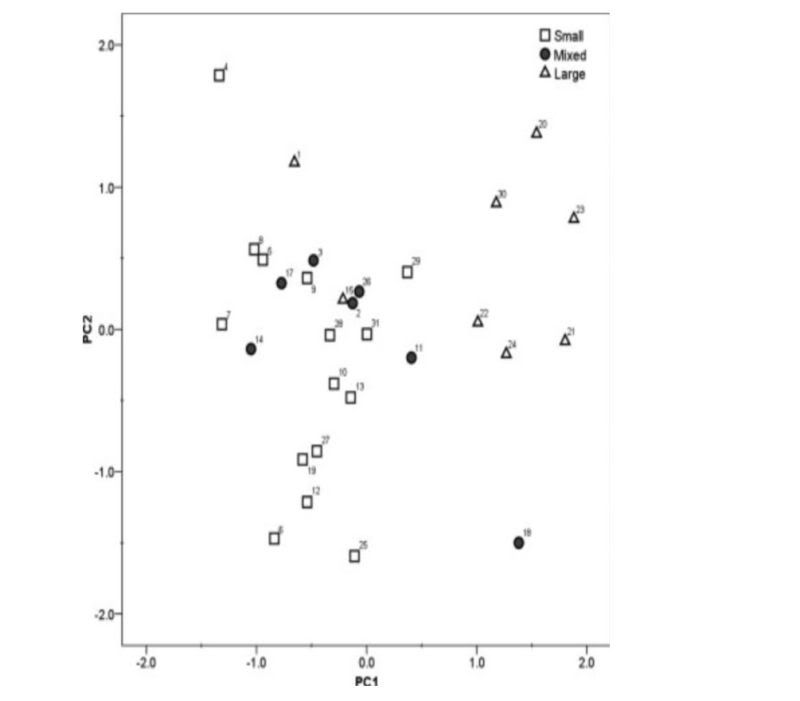 The following extract indicates that Principal Component 1 (PC1)
was the major item separating the felid species. PC1 & PC2 explained 84.7% of the data's variance - which was comprised of 75.1% for PC1 and 9.5% for PC2).
Since positive PC 1 scores are correlated with big-game killing, we
can note the following:
Tiger and jaguar have the best grappling ability according to this
analysis.
Clouded leopard has strong grappling ability.
Eurasian lynx and cheetah grappling ability is much less than big cats
and the clouded leopard.
The principal component analysis (PCA) performed on forelimb
ratios yielded two significant principal components
(eigenvalues >1), which accounted for 84.7% of the
total variance in the data set (Table 6). Principal
component 1 (PC1) accounted for 75.1% of the
variance, and separated cats that kill large prey
from the other two groups, with the exception of
the cheetah and the Eurasian lynx (see Fig. 2).
Large prey specialists (positive PC1 scores) had
relatively wider paws, (PAW), greater humeral and
radial robustness (HRI, RRI), larger humeral epicondyles
(HEI), longer olecranon processes (OI),
and larger humeral, radial and metacarpal articular
areas (HAA, RAA, MC3AA, HCI and RAI).
Small and mixed prey specialists (negative PC1
scores) had more robust metacarpals (MC3RI) and
a longer radius relative to humerus length (BI).
Principal component two (PC2) accounted for
9.5% of the variance. Large-prey specialists had
positive scores associated with a smaller proximal
phalanx to metacarpal ratio (MCP). Mixed prey
and small prey feeders show a great deal of scatter,
but had generally more negative scores on
PC2, indicating longer proximal phalanges relative
to metacarpals (MCP).
The second statistical analysis used is a discriminant function
analysis (DFA) shown below: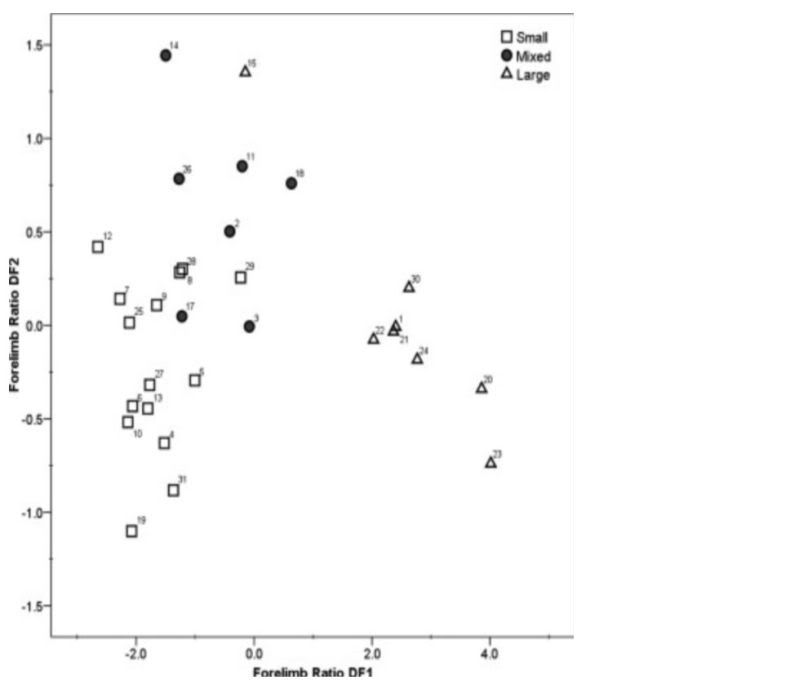 The following extract indicates that DF1 was the major item separating the species (96.8% of 100% variance).
Since positive DF1 scores indicate stronger grappling ability,
we can note the following:
Tiger and lion have the strongest grappling ability according
to this analysis.
Clouded leopard shows good grappling ability.
Eurasian lynx again shows weaker grappling ability than big
cats.
Cheetah's high DF1 score seems like an anomoly and is
likely due to some kind of weakness in the statistical
technique.
Stepwise discriminant function analysis (DFA) was performed on all forelimb ratio data using the three a
priori groups for prey size. Separation of the
groups was highly significant (Wilks' k 5 0.177, P
< 0.001). The analysis yielded two discriminant
functions, which accounted for 100% of the total
variance in the data (Table 7; Fig. 3). Prey size
groups were correctly classified in 81.3% of all
cases (79.9% were correctly classified in a cross-validation,
a method used to further validate classifications
by jack-knifing). In the discriminant
function analysis, most misclassifications were
between mixed prey and small prey specialists.
However, one large prey specialist, the Eurasian
lynx, grouped with the mixed prey feeders.
The first discriminant function (DF1) accounted
for 96.8% of the total variance. Large-prey specialists
had positive DF1 scores, which were associated
with longer olecranon processes (OI), greater
distal humeral articular area (HAA), wider humeral
epicondyles (HEI), greater radial robustness
(RRI), and relatively wider paws (PAW). Mixed
and small prey specialists had negative DF1 scores
associated with more robust metacarpals (MC3RI).
The misclassified Eurasian lynx had DF1 scores of
~ 0. Although the clouded leopard was not misclassified,
it did show slightly positive scores, closer to
large prey specialists.

The second discriminant function (DF2)
accounted for 3.2% of the total variance. Large
prey specialists had negative DF2 scores and relatively
less robust metacarpals (MC3RI). Mixed
prey feeders had mostly positive DF2 scores associated
with an increase in metacarpal robustness
(MC3RI) and small prey cats were scattered
throughout. Again, the Eurasian lynx was an outlier
with positive DF2 scores, grouping with the
mixed prey specialists.
Small Cat Morphology Analysis
The authors analyze the different grappling ability of small
cats vs. big cats:
Small prey specialists do not meet with as much
resistance while catching prey. However, their
prey is fast and requires speed to catch (Ewer,
1973). The cats that kill small prey have relatively
gracile limbs that have a high brachial index (BI),
that is, they are relatively distally elongated.
Small prey specialists also have elongated phalanges
relative to metacarpals (MCP), which again
shows distal elongation. Distal elongation likely
provides a velocity advantage for catching small,
elusive prey. Mixed prey feeders were found to
have relatively robust metacarpals that were not
found in large prey specialists. These robust metacarpals
may be an adaptation for smaller sized
cats to grapple with and hold on to the larger prey
that they catch, without sacrificing the velocity
advantage needed to catch smaller prey.


APART FROM REDDHOLE'S DATA;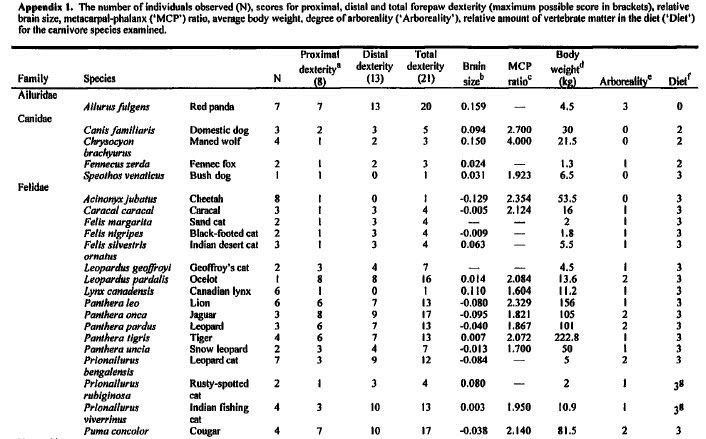 The MCP (metacarpal-phalanx) ratio is used determining relative paw size. A high MCP ratio would be the result of adaptation for cursoriality (dealing with running), whereas a low one is associated with better grappling abilities. The lion's ratio, which is 2.329, is the second highest, right below the cheetah which is at 2.354. The tiger's much lower ratio at 2.072 does not only indicate superior grappling abilities by a relatively big margin, it's also direct evidence for the tiger's bigger relative/absolute paw size.
Tigers also have greater reach than lions, for better grappling