African (Cape) Buffalo - Syncerus caffer 
The African buffalo, affalo, nyati, Mbogo or Cape buffalo (Syncerus caffer) is a large African bovine. It is not closely related to the slightly larger wild Asian water buffalo, but its ancestry remains unclear. Owing to its unpredictable nature which makes it highly dangerous to humans, it has not been domesticated, unlike its Asian counterpart, the domestic Asian water buffalo. The Cape buffalo is a very robust species. Its shoulder height can range from 1 to 1.7 m (3.3 to 5.6 ft) and its head-and-body length can range from 1.7 to 3.4 m (5.6 to 11 ft). The tail can range from 70 to 110 cm (28 to 43 in) long. Savannah type buffaloes weigh 500 to 910 kg (1,100 to 2,000 lb), with males, normally larger than females, reaching the upper weight range. A record-sized savannah-type male weighed 1,000 kg (2,200 lb). Forest type buffaloes, at 250 to 455 kg (550 to 1,000 lb), are only half that size. Its head is carried low, its top located below the backline. The front hooves of the buffalo are wider than the rear, which is associated with the need to support the weight of the front part of the body, which is more powerful than the back.
African Lion - Panthera leo 
The lion (Panthera leo) is one of the four big cats in the genus Panthera, and a member of the family Felidae. With some males exceeding 250 kg (550 lb) in weight, it is the second-largest living cat after the tiger. Wild lions currently exist in Sub-Saharan Africa and in Asia with an endangered remnant population in Gir Forest National Park in India, having disappeared from North Africa and Southwest Asia in historic times. Until the late Pleistocene, about 10,000 years ago, the lion was the most widespread large land mammal after humans. They were found in most of Africa, across Eurasia from western Europe to India, and in the Americas from the Yukon to Peru. The lion is a vulnerable species, having seen a possibly irreversible population decline of thirty to fifty percent over the past two decades in its African range. The African lion is a very large cat, with males weighing between 330 and 550 pounds and females weighing between 260 and 400 pounds. It is 8 to 10 feet long, not including the tail. Its most famous feature is its mane, which only male lions have. The mane is a yellow color when the lion is young and darkens with age. Eventually, the mane will be dark brown. The body of the African lion is well suited for hunting. It is very muscular, with back legs designed for pouncing and front legs made for grabbing and knocking down prey. It also has very strong jaws that enable it to eat the large prey that it hunts.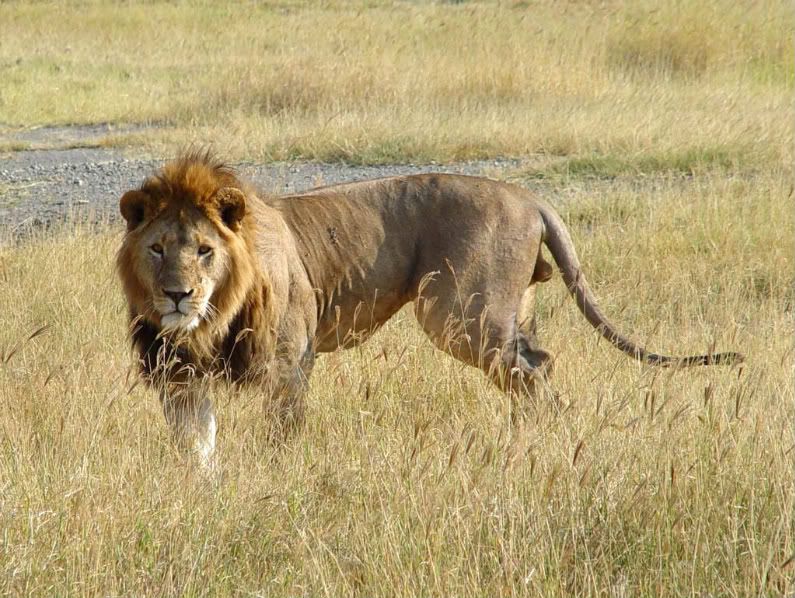 Who will win in a head on fight