Aggression....definition:
A forceful action or procedure (as an unprovoked attack);
the practice of making attacks or encroachments;
hostile, injurious, or destructive behavior or outlook especially when caused by frustration;
any
offensive
action,
attack,
or
procedure.

So, from those definitions, aggression can be termed either with 'an unprovoked attack', or just attacking in general, for any reason, hostile behavior, or any offensive action, attack, or procedure.

Moving on.....;

This first source is from Melvin Sunquist, who is stated by many as being the leading tiger expert. For more info on Sunquist;

http://www.panthera.org/people/mel-sunquist

http://www.wec.ufl.edu/faculty/sunquistm/

Sunquist began his studies, in Chitwan, in 1974, and published this article by 1981. After 7 years,

capturing

, i believe, about 10 or so male tigers (mostly adults), and many females, as well (some were young), found that

none

bore any signs of having been into fights;




Particularly note this section, as well;




To recap, it says;

"

I found no evidence of active defense of territories

, although J.L.D. Smith (1978) has since recorded fights involving some of the same animals i monitored

." This indicates that although tigers will fight, on occasion, it is by no means frequent. He also says; "

Fights between males over estrous females have been reported (Baikov, 1925), but damaging encounters would seem maladaptive, as an injured animal may starve to death

"

"

Defense of territory need not, however, involve fighting and in many large mammalian carnivores the exclusive use of areas is maintained without frequent antagonistic encounters

"

This part is the most conclusive, however;

"

As pointed out by Geist (1971a), unless an animal can obtain enough energy over that required for maintenance and work, it will become a reproductive failure. A solitary predator, unlike a pack animal, relies on it`s physical well-being to secure food and thus cannot afford a serious injury (Ewer, 1973; Hornocker, 1969). So, while fighting may occasionally occur, it is not likely to be the principal mechanism for promoting or maintaining the spacial patterns observed in tigers

"

This next source shows the conclusion from 3 separate sources;




In this next source....neither tiger attempted to oust the other, though they were within hearing range of each other;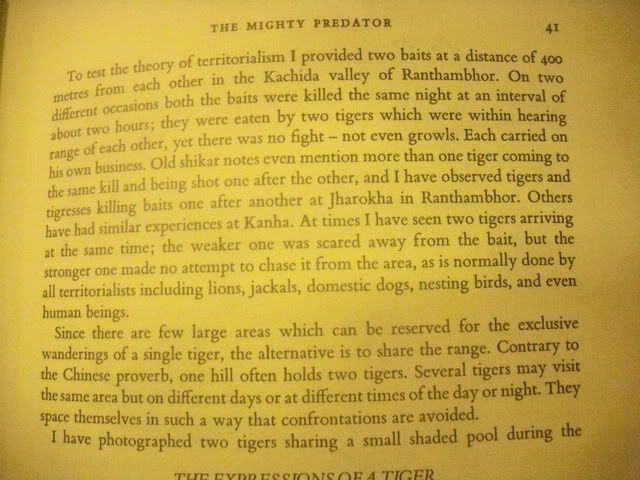 This is unlike lions who do not allow other, nomadic lions, to feed or kill within their territory.

Lions have a well-defined territorial system;




More on tigers....again from Sunquist;




More on lions, from the leading lion expert, Packer;

http://www.cbs.umn.edu/ee...search/groupliving.shtml


"
In a set of experiments to resident males, Jon Grinnell found a similar sense of "numeracy" but the males sometimes approached even when outnumbered three to one—probably because

male lions only have a brief opportunity to father offspring and are more likely to be suicidal in protecting their pride
."
Even Thapar never came across a tiger that was injury, or which had died from fighting;
More on the territorial fighting between tigers (left column);
http://books.google.com/b...C%20Schaller&f=false
Even more data;
Lions readily initiate aggression, regardless of the danger, when a valuable resource is threatened;
Now, some of the reasons as to why a pride male might choose to confront a potential rival;
Lion`s reaction to an invasion by another lion (click on it);
More on tigers;