This thread will be about any tiger predation, interaction, etc. with bear.
Before we begin, these are scientifically verified dimensions of Ussuri brown bears, sizes do not differ, nor even consist much greater of any tiger.
These are quick quotes justifying wild occurrences between the two beasts, Amur tigers and Brown bears, explained thoroughly it is more common for any bear to try and usurp/attack a female brown bear, but we are yet to see any documents of a bear usurping kills or killing from a prime male tiger.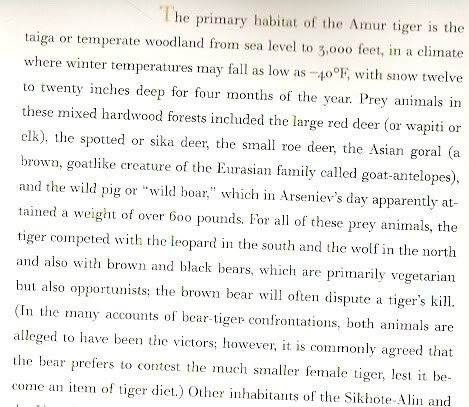 These documents show of mountain lions, AKA pumas/cougars predation on bears, and interactions of course. This also explains very accurately the aggression and determination the common bear would use in any encounter, not being the aggressor with a cougar, would very rarely be an aggressor with a much larger, stronger, and more intimidating tiger.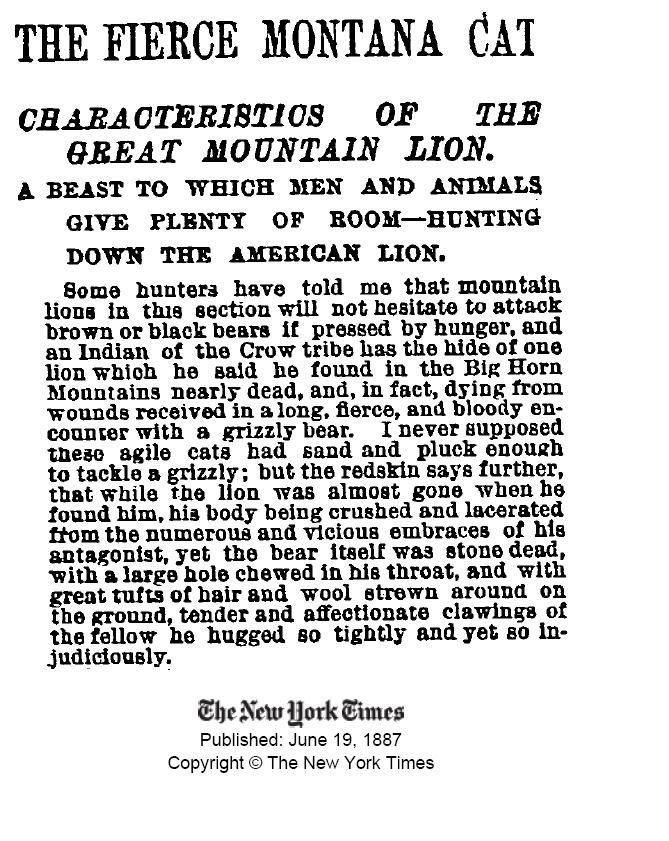 A quick fight shows the power of any tiger who decides to attack the much more docile brown bear. The bear does not have the proper tools and weaponry to take on a prime tiger, of course, if it doesn't have a huge size advantage.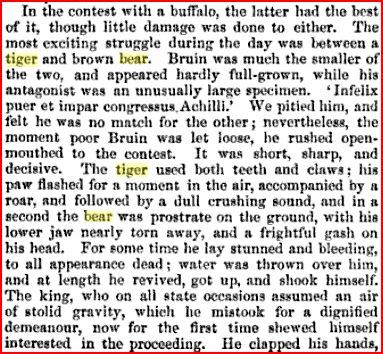 Dale Miquelle of the WCS Russia Program had radio collared Amur tigers, and knowingly reported that none of the tigers had been killed by any shape, form, or mass of bear.
A graphic analysis basing off of tiger predation on bear, with reliable evidence, basing off of recorded cases in the following occasions, recorded of course, as tigers had made predation on bear.
"The Bear Killer" Of India, reliably reported to have killed several, if not
many
, bears. Take off spotted cases, this beast probably killed even more bears then reported, as no tiger is viewed 24/7.
From Last Big Cats by
Erwin A. Bauer
, quoted.
"Hornocker and Quigley bring their great experience with North American mountain lions to their Siberian tiger investigations. Earlier, on the White Sands Missile Range in New Mexico, Hornocker discovered that a single female cougar had acquired a taste for wild sheep and alone was endangering the desert bighorns living on the range. Recently on the Sikhote-Alin Biosphere Reserve, he and Quigley discovered a similar situation. A 400-pound (180 kg) male Siberian tiger had developed an even stranger preference for just one prey: brown bears. Although red deer and other game were readily avaiable, this cat stalked and ate bears almost
twice as heavy as itself
. The biologists tracked the tiger through the snow to eight separate bear kills, all of which seemed to have been accomplished
without great effort
, except one. In that kill, there was evidence of a vicious battle with bits of bear hide strewn over a wide area, but the tiger had won."
More quotes stating the Amur tiger's predation on bears.
Accurate dimensions given of the Amur tiger, with, of course, quotes stating interactions and predation of the Ussuri bear.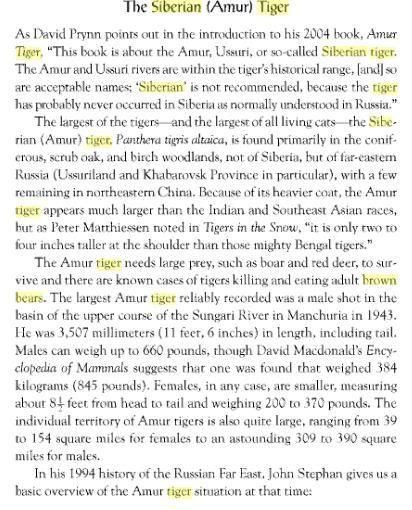 Karanth and Sunquists studies of Nagarhole tigers, which consist of the much smaller South Indian tigers, which exclude the much bigger Central and Northern Indian tigers. More cases of tigers and tigresses killing bears much larger then themselves.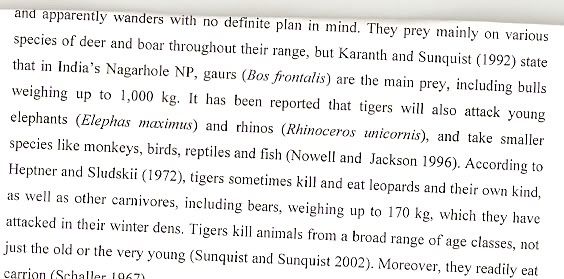 Annual diet of Amur tigers in the Primorksy and Khabarovsk regions.
Explanation of tiger predation on bear, caught from reliable sources and analogies.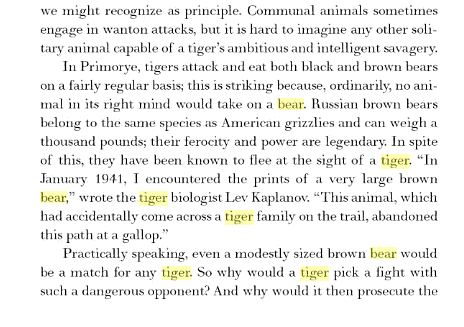 Shows the superior dominance of the Amur tiger compared to the Ussuri Brown bear, also explains the territorial behavior of the tiger.
More Tiger-Bear interactions of the Sikhote-Alin.
Bears do not typically fight consisting with mortality and serious wounds, as they would rather have no conflict at all.
A tigress mauled and killed a bear much bigger then herself. Mammals of the Soviet Union By Vladimir Georgievich Geptner, A. A. Nasimovich, Andreĭ Grigorʹevich.
Of equal weights, the tiger is certain to win mostly, but I agree, if of largest weights, grizzlies can top over 1000 lbs, and would easily kill a tiger, as quoted.
Munsey's Magazine: Volume 25 - Page 126
Fight account (moon bear v. tiger)
"Chambers's Edinburgh journal" - William & Robert Chambers. - pg. 388 - Tiger vs. Brown bear
"Tiger" - Stephen Mills - pg. 28 - Tiger vs. Bear
Tiger v. grizzly, interesting battle, shows the superior tiger weaponry (claw wise)
Sikhote-Alin tiger/bear interaction information
Search for the Golden Moon Bear: Science and Adventure in Southeast Asia By Sy Montgomery, Gary Galbreath - Page 71.